cutting, cleansing, conditioning and styling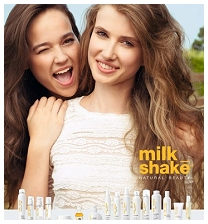 All our stylists are highly qualified and experienced in all cutting techniques and keep up-to-date with the latest styles and trends.
For all our cleansing, conditioning and styling we use Italian brand MILKSHAKE from z.one concept and we are proud to be recognized as a MILKSHAKE PREMIER SALON. These amazing products make the most of the benefits of nature to offer dedicated solutions for all hair types. Natural ingredients such as milk and yogurt proteins and fruit extracts enhance your hair's natural beauty.
From cleansing to styling, each haircare step has been carefully devised to provide visible results in both the appearance and the health of your hair. These are environmentally conscious products packaged in recyclable materials and, wherever possible, are sulfate, paraben and salt free.
Apart from making your hair look and feel amazing the products smell incredible too! Once you've tried MILKSHAKE for yourself you may very well be tempted to buy a product or two to take home with you. Drop into the salon soon to see our full range.